All professionals at Sergio Garcia, MD maintain the highest levels of accreditation and pursue ongoing education to stay abreast of the latest trends in the medical field. Read on to learn more about our staff's experience and training.
Dr. Sergio Garcia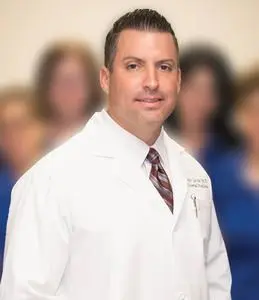 Dr. Sergio Garcia is a Board Certified Diplomat of the American Board of Internal Medicine, practicing as a board certified physician since 2008. He is an undergrad of the University of Miami and graduate of Universidad Central del Caribe School of Medicine in Puerto Rico. After receiving his medical doctorate degree in 2005, Dr. Garcia went on to complete his internship and residency training in Internal Medicine at University of Miami /Jackson Memorial Hospital.
In 2008, upon completion of his residency, Dr. Garcia was employed by Baptist Hospital, where he served as a Hospitalist Physician for three years. During this time Dr. Garcia was offered medical staff leadership courses given by The Center for Executive Leadership in preparation for future administrative roles. In April 2011, West Kendall Baptist Hospital opened its doors, whereby Dr. Garcia was promoted to and served as the youngest Associate Medical Director in Baptist history, where he assisted in directing and leading a team of hospitalist physicians. In addition to his Associate Medical Directorship role, in 2012 he was named the Hospitalist Clinical Section Chief for the Hospital-Based Medicine Program and was selected as a nominee for Physician of the Year at West Kendall Baptist Hospital.
Dr. Garcia is fluent in both English and Spanish. As stated above, is a Diplomat of the American Board of Internal Medicine and is a member of the Society of Hospitalist Medicine. He has served as a member of several committees including West Kendall Hospital Credentials Committee, West Kendall Hospital Pharmacy Committee, the Hospitalist Physician Leadership Council and has worked as the Tournament Physician for the PGA World Golf Championships at Doral Cadillac Championship Tournament.
After several years of hospitalist work and administrative roles, Dr. Garcia decided to venture into private practice, where he could have the opportunity to build long-term, personal relationships with his patients.